Keeping lips soft during travel is perhaps a less common standard. With the onset of spring, we feel inspired to go outside and enjoy the nice weather and sunshine.
And with strong sunlight comes harmful UV rays, which is why it's paramount to apply a good sunscreen with a good SPF along with protecting your lips and keep a packable hat with u.
Even though the heat isn't quite up to its summer standard, our skin and our lips are still under attack—which is why some of the Best Lip Balms For Women contain SPF.
So in search of the ideal moisturizing lip balm for this spring and summer vacation, make sure you keep an eye on the SPF number on the packaging.
When we're thinking about lip protection during the warmer months of the year, it's never too early to prepare a diet for your lips for the winter months. When the cold comes, we're reminded how painful and upsetting dry lips can be.
---
What are the ingredients in the Lip Balms For Women, which make lips soft?
Lip balms not only provide the required hydration and nourishment but also prevent the moisture from evaporating. Because the lips have no oil glands to help regulate the skin, lip balms act as a protective barrier and help increase moisture.
When searching for the right lip balm, people should look for hyaluronic acid and sodium hyaluronate ingredients. These ingredients are humectants, aka substances that work to draw moisture into the lips.
When looking for the best lip balm, stay away from products with menthol, camphor, phenol, and alcohol. So without further ado, these are the 10 best lip balms, according to customer reviews and dermatologists.
---
Things To Consider While Buying Best Lip Balms For Women
1. Purpose
Do you want something protective or do you want something attractive? The answer to this question will decide the product you pick.
If protection is the main reason, then something plain will do. If you want colors and flavors, the pick would be different. There are specialized products for men, so go indulge.
2. Exposure to the sun
There are some cute lip balm which offer protection with a good SPF, so if you are likely to be out in the sun for long period, use this.
3. Medicated
Some lip balms also contain medicinal effects against cold sores, so if you have a cold sore, use this.
4. Do no harm
There could be lip balms which contain synthetic substances like phenol, menthol, salicylic acid, and alum. These have a tendency to dry the lips, and so not advisable in the long run.
5. Container
While lip balm sticks are very popular, they are best for single person use, to avoid contamination.
Whatever product you apply, it inevitably enters your system and hence it is important to carry a good product. Choose plant-based fragrances that are not only healthy but also provide a nice, protective effect for the lips.
---
10 Best Lip Balms Women's
When looking for the Lip Balms For Women, stay away from products with menthol, camphor, phenol, and alcohol. So without further ado, these are the 10 Lip Balms For Women, according to customer reviews and dermatologists.
1. Vaseline Lip Therapy Advanced Petroleum Jelly
Help protect your lips from temperate weather with long-lasting moisture, so you never have to reapply! Apply this vaseline lip balm at night for optimum protection.
"When you sleep, your body works hard to help itself regenerate and heal itself," explains Yadav. "Promoting your lips with moisture during this critical moment will help promote healthy lips."
---
2. Glossier Balm Dotcom 0.5 fl oz
Number 2 in our list of best Lip Balms For Women is Glossier balm. It's great to keep in your pocket or in your bag for when you need extra nutrition."
"It has a bunch of emollients, including lanolin, castor oil, and beeswax — and comes in fun flavors, too.
---
3. Colorescience Sunforgettable Total Protection Color Balm SPF 50
This cute lip balm really like sunscreen that contains makeup. Protect and hydrate lips & cheeks with a pop of color, providing all-mineral protection from UVA/UVB, pollution, blue light and infrared radiation. Available in 3 buildable shades. Water/sweat resistant for 40 minutes.
Hypoallergenic, paraben-free, sulfate-free, phthalate-free, oil-free, dye-free, gluten-free and fragrance-free.
For sheer color, use fingertips to lightly dab on skin. For fuller color, apply directly on skin & layer as needed.
---
4. Biossance Squalane + Rose Vegan Lip Balm
Next in our list of best Lip Balms For Women is Biossance Squalane + Rose Vegan Lip Balm. Committed to clean beauty, Biossance's rose vegan lip balm is made with hyaluronic acid and squalane, delivering a boost of hydration.
The ceramides prevent moisture loss, while the wakame algae will work to plump your lips.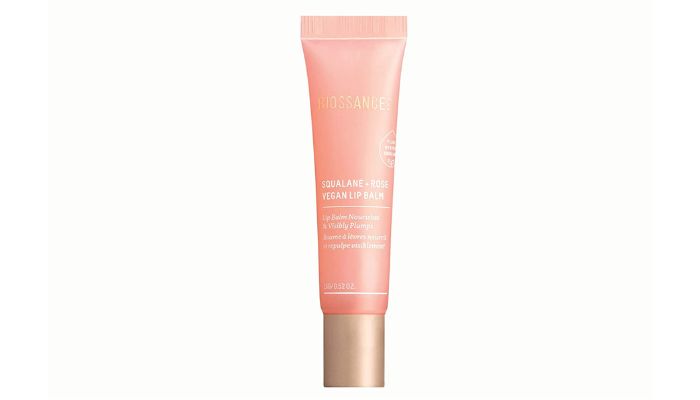 ---
5. Neutrogena Revitalizing and Moisturizing Tinted Lip Balm
Another favorite of Raabuch is Neutrogena's Tinted Lip Balm, which comes in five different shades. It improves the texture of the lips and enhances the natural complexion while providing protection from harmful UV rays.
Balm with Sun Protective Broad Spectrum SPF 20 Sunscreen, Lip Soothing Balm with a Sheer Tint in Color Healthy Blush 20.15 oz. This is considered as one of the best Lip Balms For Women.
---
6. Sun Bum Sunscreen Lip Balm SPF 30
Sun Bum's lip balm is another great lip balm choice if you're searching for a product with SPF. Made up of aloe and vitamin E, your lips will stay smooth and hydrated. But you've been warned—you'll want to lick it all off, thanks to its yummy fragrance.
Vegan & Cruelty Free Broad Spectrum UVA/UVB Lip Care with Aloe & Vitamin E for Moisturized Lips | Banana, Coconut, Key Lime, Mango, Pomegranate, Watermelon | 15 oz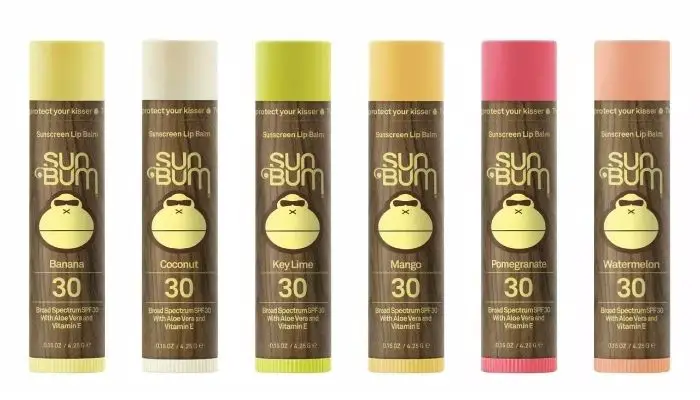 ---
7. Lip Balm, Burt's Bees Tinted Moisturizing Lip Care
The Tinted Lip Balm goes with most skin tones and is affordably priced. "I find that some of my patients have an easier time using a lip balm if they have a sheen, and this one is great," says Sarkar.
"It has fruit oils, shea butter, lanolin, and, of course, beeswax, so it has great staying power." However, if you're allergic to wool, beware of the lanolin.
---
8. eos USDA Organic Lip Balm
"Beswax, coconut oil, and shea butter all contain fatty acids and vitamins that help to heal, protect, and provide lasting hydration to the lips. All of these ingredients present in Eos Lip Balm ensure that While saying that it is great for chapped lips.
Lip Care to Moisturize Dry Lips | 100% Natural and Gluten Free | Long Lasting Hydration | 0.14 oz |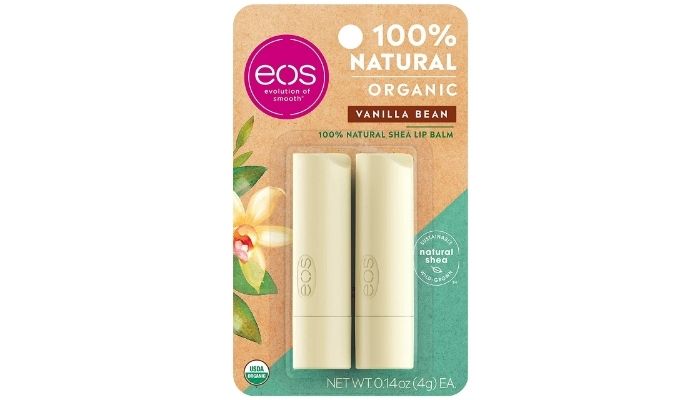 ---
9. Aquaphor Lip Repair Ointment
It's clinically proven to relieve dryness and soothe chapped lips.
Immediately relieves dryness and soothes chapped, cracked lips. it provides effective, long-lasting moisture so lips look and feel healthier. It also adds a little extra shine!
Specially formulated for sensitive lips, Aquaphor Lip Repair is preservative and fragrance free.
---
10. LANEIGE Lip Sleeping Mask
It's creamy, rich, and soft without feeling plump or heavy." "It contains lots of emollients, including murumuru and shea butter, candelilla wax and humectant sodium hyaluronate." Additionally, it contains a blend of fruit extracts that have antioxidant benefits. provides.
A leave-on lip mask that delivers intense moisture and antioxidants while you sleep with its Moisture Wrap™ Technology and Berry Mix Complex™ formula.
A leave-on overnight lip mask that soothes and moisturizes for smoother, more supple lips.
Using applicator, apply hydrating lip mask generously to the lips and leave on overnight.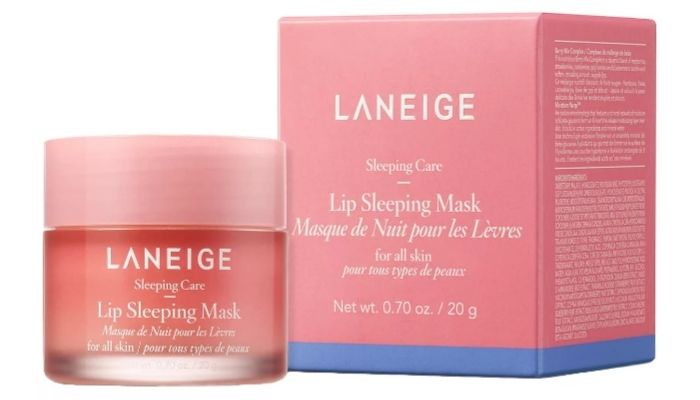 ---
Conclusion
This above given list of Lip Balms for Women will fulfill your requirement of cute lip balm. However, if you are looking for more options you can click here and check out amazon.com for some more essentials for Women.
This is all from our side regarding Lip Balms for women. Let us know your thoughts in the comment section about these cute lip balm.
FAQs About Best Lip Balms Women's
Which lip balm make lips pink?
Aegte Organics Lip and Cheek Tint Balm (Rosy Pink) All-Natural Lip Balm (Real Beetroot & Tomato Extracts) for Women – Lightens and Moisturizes Chapped Lips, 15 Gm. Want really makes this lip balm an actual delight is that you use it on your lips and even on your cheeks to give it a rosy pink flush.
Should I apply lip balm daily?
In fact, there are only a few times during the day when you should apply lip balm: When you wake up, after eating or drinking, and right before you go to bed. … That's it, according to Whitney Bowe, MD, a New York City-based board-certified dermatologist and author of Dirty Looks.
Is Vaseline better than chapstick?
Some people are more prone to chapped lips due to where they live or what they eat and drink. A dermatologist told Insider a simple product like Vaseline is better than chapsticks with more ingredients, which can irritate the lips, being both the problem and solution.
How can I protect my lips from the sun?
To recap, use an SPF lip balm regularly to protect your lips from sunburn, harmful cancer-causing radiation, and maybe even prevent some of those sun-exposure lip wrinkles. Drink lots of water to stay hydrated in the heat and treat any sunburns immediately.
Is Vaseline good for lips?
Vaseline can be helpful for dry, chapped lips when used along with a humectant. Apply the humectant to your lips first, then seal it with Vaseline.
---
Last update on 2023-10-04 / Affiliate links / Images from Amazon Product Advertising API