Sweden is a traveler's dream because of its extensive history and diverse scenery. It's definitely difficult to beat if you enjoy being outside. There are hundreds of acres of pristine forests and gorgeous lakes to explore, as well as enormous archipelagos along its beaches, and the air and water are both immaculate.
Excellent public transportation, pleasant and helpful residents, and a recent revolution in Swedish food are just a few of the country's many positive attributes. You'll never get bored if you include a fascinating past that includes infamous Viking invaders, Royal dynasties, and imperial intrigue.
10 best tourist attractions in Sweden
The lavish palaces, historic towns, huge arctic vistas, and renowned Ice Hotel are just a few of Sweden's tourism attractions. You should allot plenty of time to experience all the outdoor adventures and historical artefacts because there are so many things to do.
We've compiled our list of the top tourist sites in Sweden to help you make the most of your Scandinavian vacation plan.
1. Kärnan & the Fredriksdal Open-Air Museum, Helsingborg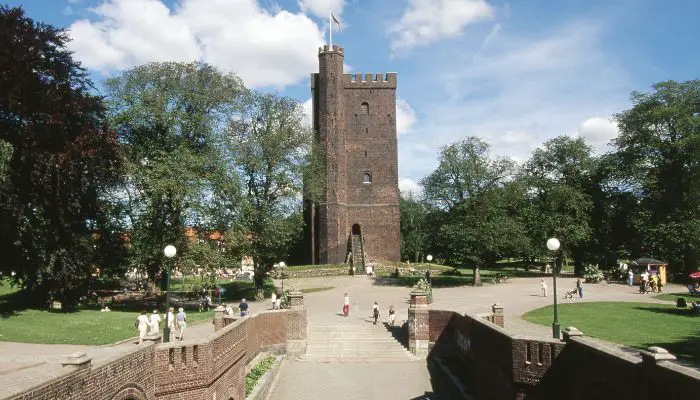 The town of Helsingborg is home to numerous historical sites and is situated across the Oresund sea from Denmark's Helsingor (Elsinore). The largest and most recognisable element of the town is a gigantic brick tower known as Kärnan (The Kernel), which was initially constructed in the 14th century as a lookout tower for the town's castle. It towers 35 metres above the market square (Stortorget) where it is located. Tourists with a sense of adventure can climb its 190 stairs for breathtaking views of the town below, the Oresund Bridge, and Denmark.
Visit the Fredriksdal Open-Air Museum & Botanical Garden (Friluftsmuseum) after touring the city's historic district for a real-world glimpse of Swedish daily life in the past. Visitors can see the Fredriksdal Mansion, a lovely Botanic Garden, as well as the Grafiska Print Museum and a Music Museum, in addition to experiencing live history at a real Skne farm.
---
2. Liseberg Theme Park, Gothenburg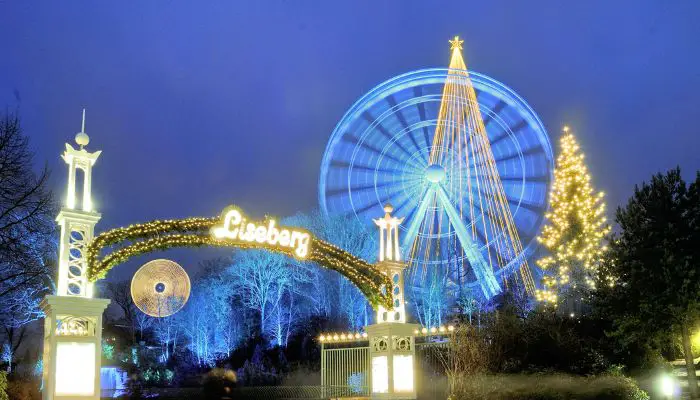 Liseberg is one of the most visited destinations in Sweden, with more than three million tourists yearly. It includes a wide variety of attractions, including four roller coasters, bumper cars, a fairy-tale castle, and rides for speed demons and adrenaline junkies.
The park has concerts in the summer as well, and both Swedish families and foreign tourists adore it. The park holds an amazing market around Christmas. In the summer, there are many places to eat and gorgeous flowers blooming. Take a ride on the Big Wheel for the most impressive views of Gothenburg.
---
3. Stockholm City Hall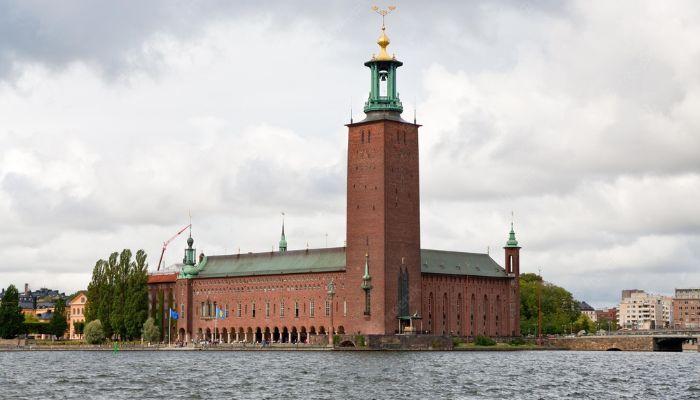 Stockholm City Hall (Stockholms stadshus), one of Sweden's most recognisable structures, was constructed between 1911 and 1923 using an astounding eight million bricks. It was created by architect Ragnar Stberg and is regarded as one of the finest instances of National Romanticism. Three crowns grace the summit of the 106-meter-tall tower.
A very educational tour narrates part of its history and explains details of the annual Nobel Prize ceremony that takes place here. During the tour, you'll view the Nobel Dinner's venue, the Blue Hall, as well as the Golden Hall, which is lined with 18 million gold mosaic tiles.
---
4. Visby, Gotland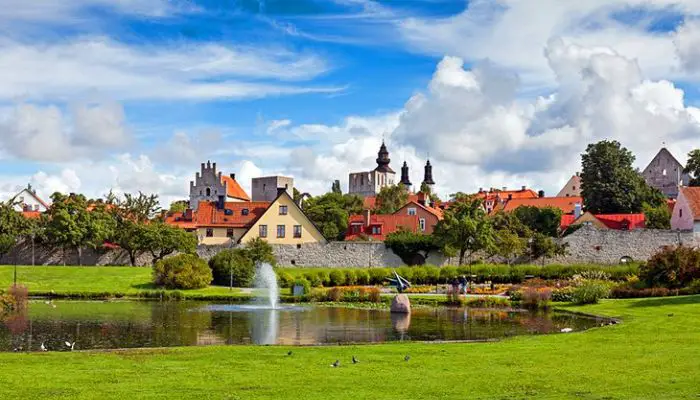 The walled town of Visby on the island of Gotland, which is covered in roses and steeples and is steeped in mediaeval history, is a major magnet for tourists from all over the world. It's all too easy to lose your sense of being in the contemporary world when strolling the town's charming cobblestone streets. Numerous mediaeval merchant houses with stepped gables and a few timber structures from the 17th and 18th centuries are still standing.
Visby is well deserving of its moniker as "the gem of the Baltic" and its designation as a UNESCO World Heritage Site. It is essential to take a self-guided or guided sightseeing tour of the majestic walls, which are 700 years old. There are about 44 defensive towers built within the structure, and two breaches in the walls still show where an attack once occurred.
---
5. Skansen and Djurgården, Stockholm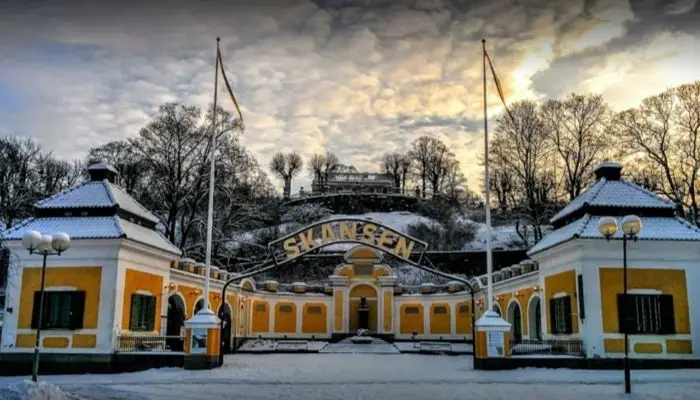 The world's oldest (and one of the biggest) open-air museum, Skansen is a mediaeval hamlet made up of homes and farmsteads from all across Sweden. Together, these well preserved structures depict both country and urban society from the 1720s through the 1960s.
Churches, schools, manor houses, stores, mills, workers' homes, artisan shops (including a book bindery, print shop, shoemaker, tinsmith, comb maker, and glassworks), a bakery, a funicular railroad, a Sami camp with reindeer, and a number of full farmsteads are all gathered here.
Costumed interpreters who live in these homes, farms, and workshops go about their daily lives while doing farm and domestic chores and showing crafts and talents. A zoo has areas for exotic animals, children's zoos, and Swedish native animal exhibits.
Skansen is situated in the sizable urban Djurgrden park, a popular spot with locals, particularly in the summer. There are numerous quaint cafés, eateries, snack bars, and even motels. If you're feeling particularly active, you can also rent a canoe or a bicycle. Along with the Gröna Lund amusement park, this location houses the Abba the Museum.
---
6. Kiruna and the Ice Hotel, Lapland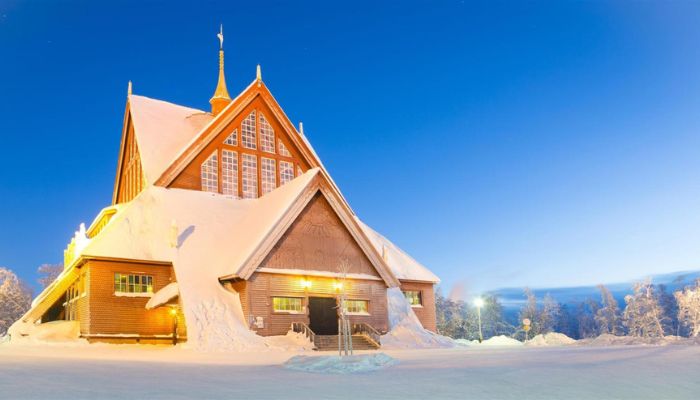 The northernmost town in Sweden is Kiruna in Lapland, which is at the same latitude as central Greenland. Additionally, it serves as the capital of the biggest commune in the nation, which borders both Finland and Norway. Mid-May until mid-July sees the midnight sun here.
The town, which was formerly a Lapp community, started to grow when iron ore mining got underway around 1900. Amazingly, the entire city is slowly being pushed northwest to the base of the Luossavaara Mountain due to subsidence brought on industrial mining.
This area is a hub for canoeing, fishing, stand-up paddleboarding, and river rafting in the summer. Kebnekaise, the highest mountain in Sweden, is 90 kilometres to the west of Kiruna, while Abisko National Park, where the Lapland Railroad travels to Narvik on the Norwegian coast, is 95 kilometres to the north.
---
7. The Göta Canal, Gothenburg to Stockholm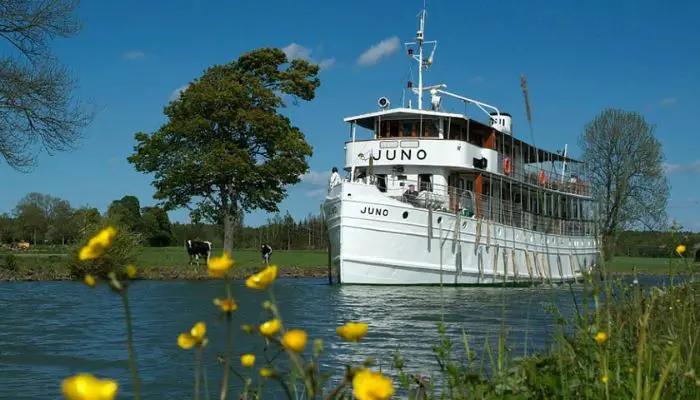 The 190-kilometer-long Göta Canal (also known as the Göta kanal) was constructed in the early 19th century and is frequently referred to as Sweden's finest engineering achievement. It now ranks among the top tourist destinations in the nation and provides a distinctive viewpoint of central Sweden. In addition, it is a component of a water link that runs from Stockholm in the northeast to Gothenburg in the southwest by linking with the lakes Vänern and Vättern and the Trollhätte Canal.
The canal runs from Sjötorp in Lake Vänern to Söderköping on the Baltic Sea and has 58 locks and 47 bridges. There are several options for passenger cruise ships, or you can rent a boat and explore the canal on your own.
---
8. Drottningholm Palace, Lovö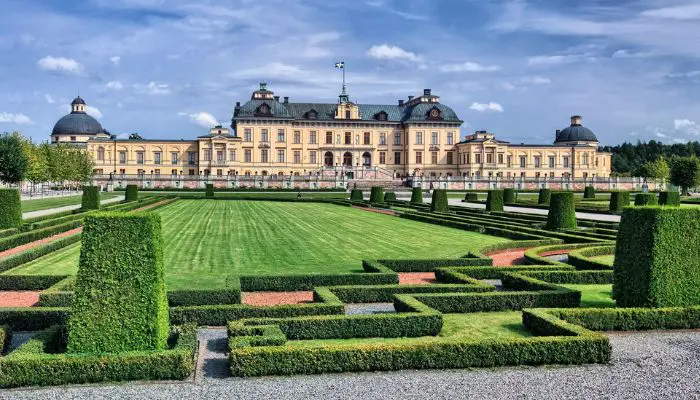 Fairy-tale On the island of Lovö, the Drottningholm Palace (Drottningholms slott) is a UNESCO World Heritage Site. It is a great day excursion from the nation's capital city because it is only 45 minutes by ferry from Stockholm's city centre and around 11 kilometres west. The palace, which dates to the 17th century, today serves as the Swedish Royal Family's official residence.
Bronze sculptures from Denmark and Bohemia that were brought back as war spoils are displayed in the lovely terraced park. The Chinese Pavilion, which was constructed in the late 1700s, should not be missed. Summer performances are still held at the Drottningholms Slottsteater Palace Theatre from the 18th century. You may see historical theatrical costumes and set design in the Theatre Museum.
---
9. Vasa Museum, Stockholm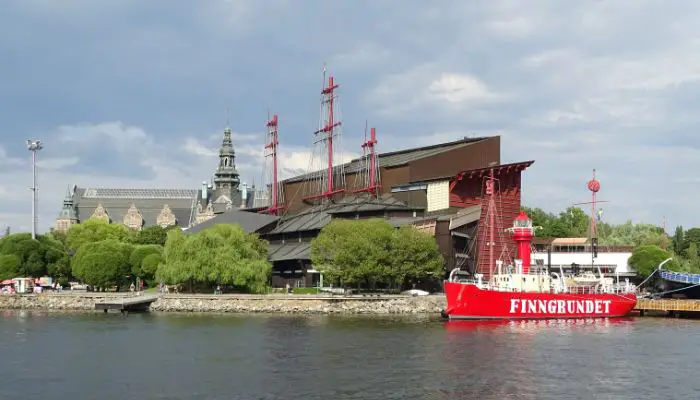 Sweden's most visited museum, the Vasa Museum (Vasamuseet), in Stockholm, now draws close to a million people a year. Since the museum opened in 1990, more than 20 million people have visited, and it's easy to understand why.
The 64-gun battleship Vasa, the pride of the Swedish Imperial fleet, sank on its first voyage in 1628. Before a hugely complex salvage operation was carried out in 1961, the ship had been submerged in frigid waters for more than three centuries. These days, travellers from all over the globe travel to see this intriguing time capsule.
The museum welcomes visitors of all nationalities and offers English-language audioguides and guided tours. The Vasa is a day trip unto itself, housing ten distinct exhibitions and four additional museum ships. For those looking to make a full day of it, there is a store and a restaurant on the property.
Fotografiska is a cutting-edge gallery featuring frequently changing exhibits honouring the art of photography and is a worthwhile addition to the museums in Stockholm. It is also well-known for its restaurant and entertainment venue, both of which serve sustainably farmed organic food.
---
10. Gamla Stan, Stockholm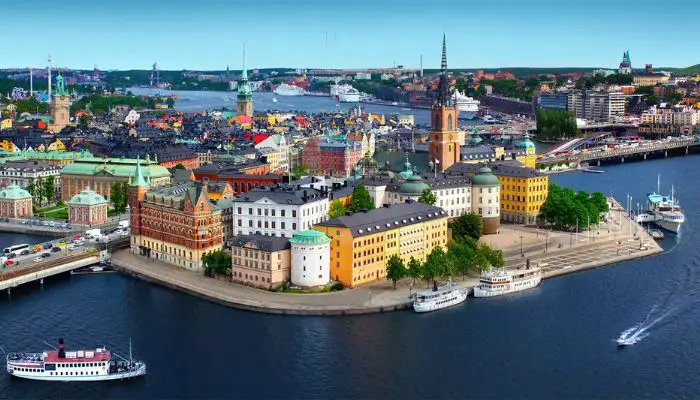 Gamla Stan, or the Old Town of Stockholm, is a compact, narrow area where the settlement first appeared in the middle of the thirteenth century. The mediaeval settlement is still largely intact, however it is frequently freshly painted and brushed in traditional Scandinavian fashion. The architecture around its squares, particularly the major one, Stortorget, which is encircled by old merchants' homes, along its winding stone-paved alleyways and cobbled streets is what gives it its appeal.
Along with a wide variety of stores, eateries, and cafés, this district is home to the Nobel Museum, the Post Museum, the Royal Coin Cabinet, and a number of churches. If you can locate acceptable lodging, such as upscale boutique hotels, guesthouses, or even reasonably priced inns and hostels, the neighbourhood is also a fantastic place to stay.
---