The landscape in New York State is among the most stunning and diverse in the nation. This East Coast jewel, which stretches from the Atlantic to the Great Lakes, is home to rocky mountains, lush woods, a crashing coastline, and winding rivers. The state's huge, glittering lakes, however, are its brightest stars.
You can locate the ideal lake in New York to enjoy swimming, fishing, paddleboarding, kayaking, ice skating, or water skiing, among other activities. The Empire State is home to some of the best lakes on the East Coast, ranging from massive, aquatic wonders spanning two nations (Lake Erie extends far beyond the U.S. and Canadian borders) to mountain-fringed showstoppers like Avalanche Lake.
---
10 Best Lakes In New York
One of the nicest things to do in New York, especially when the weather is perfect, is to dive head or feet first into one of these stunning marvels of wonderful lakes.
View our ranking of New York's top lakes.
1. Chautauqua Lake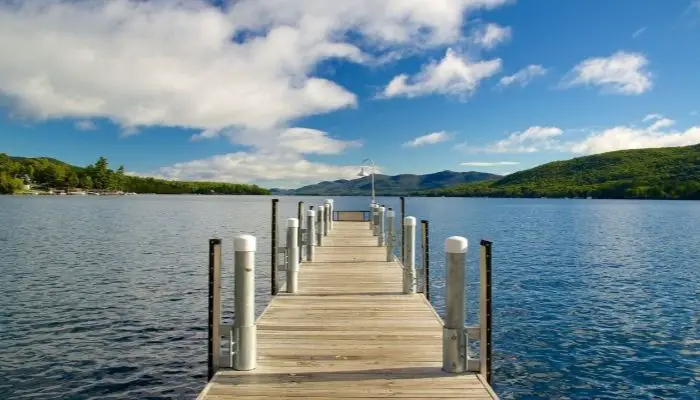 Chautauqua Lake is one of the highest navigable lakes in North America, rising 1,308 feet above sea level. This lake, which is 17 miles long, gives visitors plenty of room to explore its murky depths. There are four public swimming beaches, as well as many sandy areas to spend the day.
You've come to the perfect location if you love to fish. Chautauqua Lake hosts angling competitions every year and is well known for its excellent bass, muskellunge, and walleye fishing. At one of the marinas nearby, you may rent a boat—whether it's motorised or not. At Prendergast Point, Bemus Point, Long Point State Park, as well as Mayville Lakeside Park and Lakewood, you can launch boats from public launches.
---
2. Lake George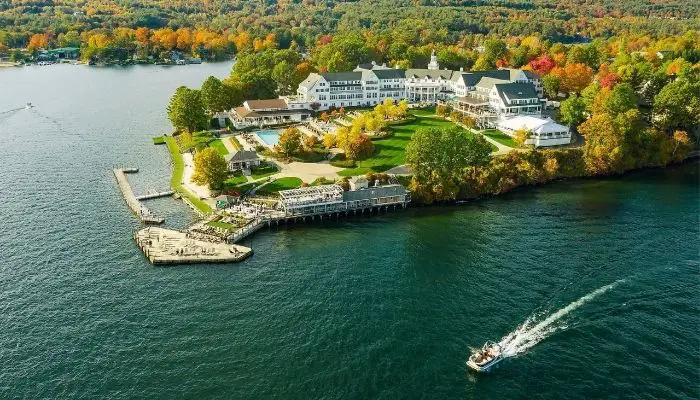 It's no accident that Lake George is known as the "Queen of American Lakes." This glittering area, which is 44 square miles in size, accentuates the majestic Adirondack Mountains. What a stunning setting for pictures!
Since there are so many outdoor activities to select from, outdoor aficionados will be content here all year long. This lake in New York offers the ultimate summertime entertainment thanks to boating, biking, fishing, swimming, and water sports. White water rafting is the most popular activity during the cooler months, followed by horseback riding, hiking, cross-country skiing, snowshoeing, snowmobiling, and skating.
Get on a boat (a canoe or sailboat would do) and cruise out to Millionaire's Row, the amazing length of shoreline dotted with opulent residences, to take in the sights.
---
3. Lake Champlain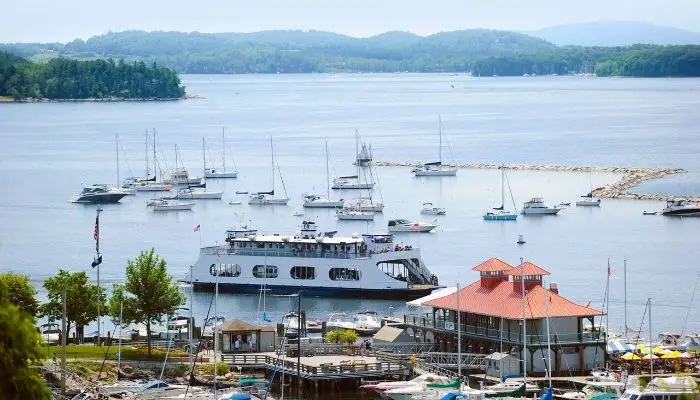 Lake Champlain, which is peacefully tucked between Vermont's Green Mountains and the Adirondack Mountains, is a must-see for visitors to upstate New York. This magnificent attraction is not only a scenic masterpiece, but it is also teeming with fish. In a lake that can be up to 400 feet deep, there are over 80 different species. Anglers, you're welcome!
With more than 500 miles of shoreline, this enormous lake provides visitors with an almost limitless variety of things to do. Climb into the spectacular Ausable Chasm, camp nearby, hike some of the more than 40 miles of Champlain Area Trails, or splash around in the refreshing lake water.
One of the greatest lakes in New York and one of the cleanest lakes in the area is this one.
---
4. Avalanche Lake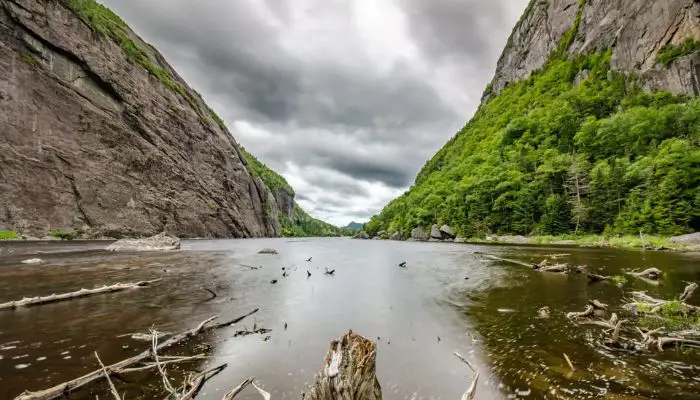 Avalanche Lake has the untamed beauty you're looking for. This lake, another gorgeous destination in the Adirondacks, received its name following an avalanche that struck the region in the 1800s. It is located between the imposing Mount Colden and Avalanche Mountain at a height of more than 2,880 feet in the Adirondack High Peaks.
Avalanche Lake is accessible only by foot, which only serves to enhance the already breathtaking vista. The routes from neighbouring Lake Placid are preferred by the adventurous. They can travel between 10 and 12 miles one way. In particular, The Trail of the Cedars is intriguing. Along the way, expect to encounter enormous boulders and lush trees, which you may have to climb over. The highlight is Marcy Dam.
---
5. Cayuga Lake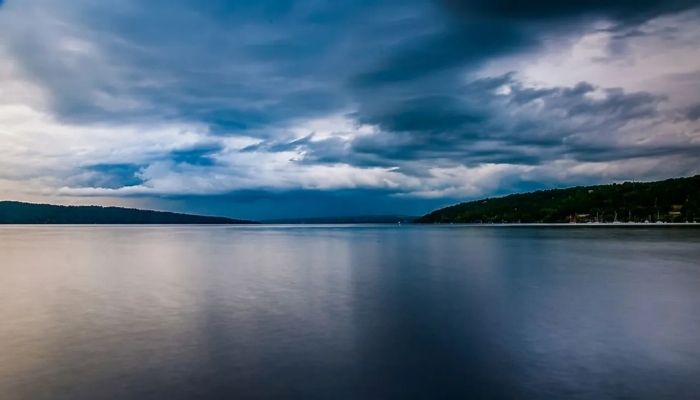 Glaciers created yet another stunning water source a very long time ago. This one, Cayuga Lake, was located in the picturesque Finger Lakes region. Cayuga is the second-deepest Finger Lake and the longest. It is well known as the lake that reaches the shores of Ithaca and is famous for hosting activities including boating, sailing, swimming, and fishing.
This lake's length, which is about 40 miles, gives visitors plenty of room to get lost. There are plenty of access spots along the shore, so don't worry—this is a great destination for families.
---
6. Oneida Lake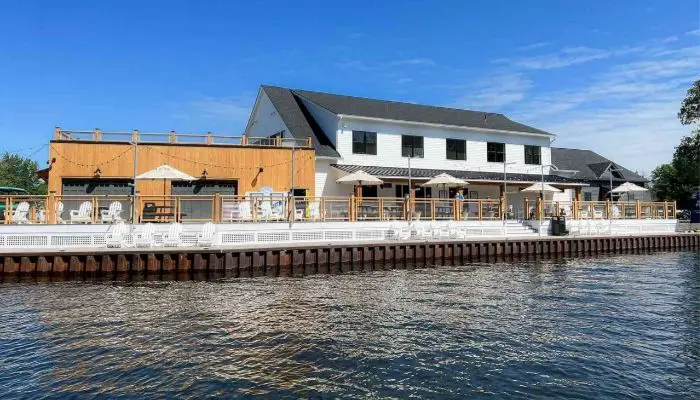 Oneida Lake has an advantage over the other, bigger New York sights. It is the largest lake wholly contained inside the borders of New York State, measuring 21 miles in length. Oneida Lake is a fantastic day trip destination and is just a 30-minute drive from Syracuse, one of the top cities in New York State.
Everything you may anticipate is available at the lake, including skating, boating, swimming, and fishing. Additionally, due to its modest depth, it is a popular summer destination for families.
---
7. Skaneateles Lake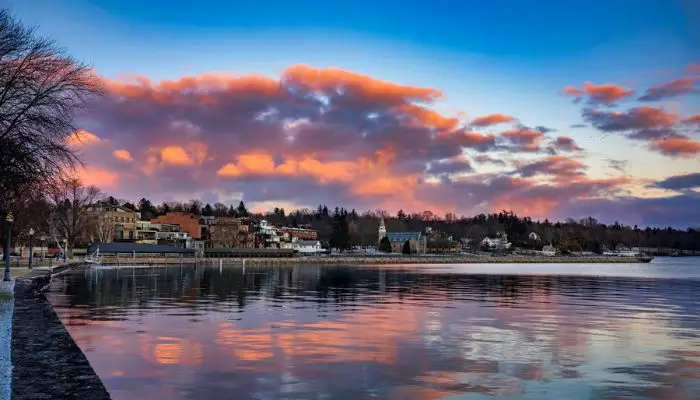 Skaneateles Lake, one of the most pristine lakes in New York, provides water to nearby Syracuse. Skaneateles is a glittering treasure surrounded by grand estates with expansive lawns and historic homes. It will put a big strain on your camera. Skaneateles, the main village, will offer the small-town charm you didn't know you were needing as well as activities to keep everyone occupied.
This pristine lake, either "skinny-atlas" or "skanny-atlas," is classified as an oligotrophic by scientists. This indicates that the lake has low nitrogen levels, which aids in preventing the proliferation of algae and other plants.
---
8. Lake Erie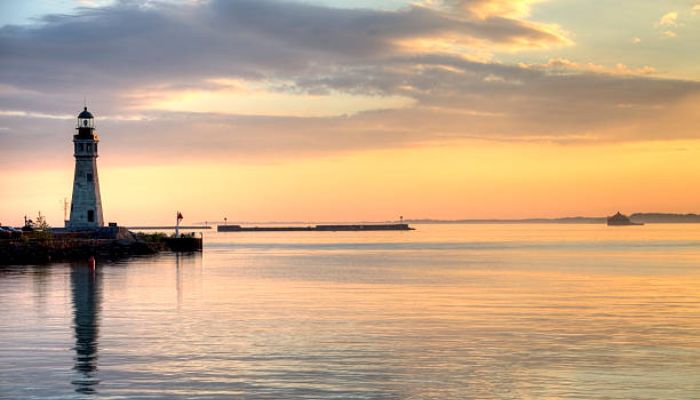 The 11th-largest lake in the world is Lake Erie, did you know that? This monster is the fourth largest of the Great Lakes, measuring more than 9,900 square miles on the surface and another 30,000 square miles below ground in a drainage basin.
In its 4,000-year-old history, numerous ships have drowned in these waters, making Lake Erie one of the top diving locations in New York State. Visitors take part in common water sports such as boating, fishing, swimming, and kayaking above the surface. Summertime pastimes are replaced by skating, cross-country skiing, ice fishing, and snowmobiling throughout the winter.
Are you looking for a good place to pass the day? Consider visiting Lake Erie State Park. Campgrounds, a sandy beach, a playground, and a disc golf course are all present.
---
9. Canandaigua Lake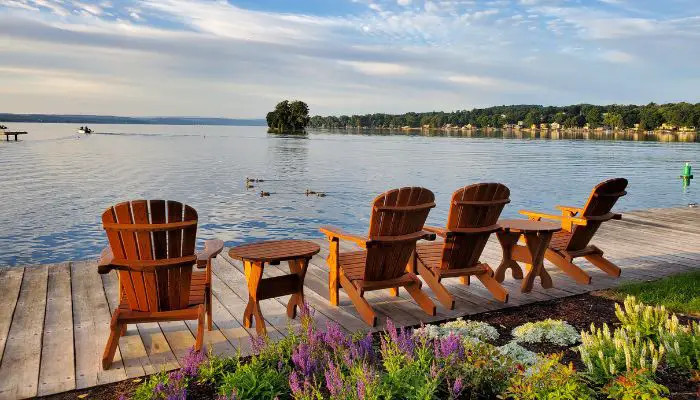 You'll find it especially difficult to leave the stunning Canandaigua Lake if you visit during the height of October. The already stunning area is brightened by rich red, yellow, and orange hues, which are expertly highlighted by the lake's vivid blue water. It makes sense since its name means "The Chosen Spot."
This beautiful lake, which is 16 miles long and 1 mile wide, provides drinking water for approximately 70,000 people living in the adjacent city of Canandaigua.
One of the best lakes in New York, Squaw Island is one of just two in the Finger Lakes region. It is also one of the nicest lakes in New York. For a closer look at this charming little place, consider renting a canoe, kayak, or water bike.
---
10. Great Sacandaga Lake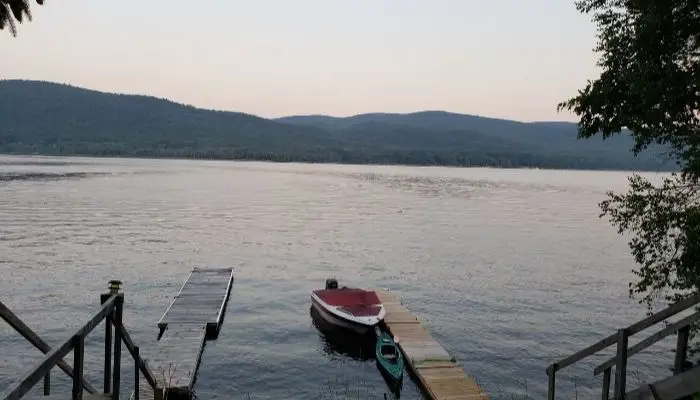 Great Sacandaga Lake, which is really a reservoir, is less well-known than its bigger, more prominent cousins, and the residents want to keep it that way. This 29-mile-long hideaway is a serene utopia, a hidden gem surrounded by lofty soaring woods and filled with immaculately pure, clean water.
When visiting this best lake in New York, that doesn't mean you can't relax and take in the tranquilly of the water. There is a lot of boating, fishing, swimming, and water sports (and in the winter, skiing, skating, and snowmobiling). There are even four boat ramps on the property. To avoid it being too crowded, you should do so without telling too many others. So, shh!
---